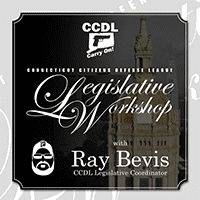 2023 Legislative Workshop

CCDL invites all that are interested in preserving our 2nd Amendment rights, in Connecticut to a FREE Legislative Workshop, designed to educate about the legislative process, grassroots advocacy, legislative action, and effectively communicating with legislators. This year will likely be some legislative challenges with the list of proposed bills so far (click Here to view bills). CCDL Legislative Workshop are designed to empower 2nd Amendment supporters to protect their rights. The two-hour workshop will cover:
Post-election and the 2023 General Assembly
Learning about the legislative process and pending gun bills
Tips for communicating with legislators
How to prepare written testimony with effective messaging
How to submit testimony through the new online system
How to testify effectively virtually or in person at a public hearing
How to track bills
How to become proactive and vigilant
If you are interested in protecting your rights, consider attending a CCDL legislative workshop. We hope you can join us. If not you, then who? If not now, then when?